Are your hair curls falling flat and your coils lacking the bounce they deserve due to subpar hair styling products? It's time for a change, and 2023 is the year to make it happen.
We've all been there – the endless search for that elusive perfect hair styling product, the countless hours spent browsing online store, and the frustration of choosing between products that promise the world but deliver disappointment. Your curly hair deserves more, your moisture-seeking coils demand better, and your precious style should never be compromised.
In this article, we're unveiling the 8 latest and most effective hair care products for 2023. These gems are not just products; they're the second step to unlocking the stunning potential of your curls and coils.
Say goodbye to bad hair days and hello to a world of lush, bouncy, and moisture-rich styles.
Factors To Consider Before Selecting Your Hair Styling Products.
Choosing the right hair styling product can make a significant difference in achieving your desired hairstyle.
To ensure you make the best choice, consider these important factors:
Understand your hair type and texture as it plays a crucial role in your product styling selection.
Your styling goals matter. Different products cater to various styles, so knowing what you want to achieve is essential.
If you have sensitive skin or allergies, it's vital to check the product's ingredients.
Examine the product's ingredients to ensure they align with your hair's needs.
Consider the level of hold and finish you desire.
Invest in products that offer heat protection as this will help save your hair from heat damage while helping you form your desired style.
Read reviews and recommendations of others who have used the products.
Selecting The Right Product For Your Desired Style Using The LOC Method
LOC stands for Liquid, Oil, and Cream. It is a fantastic technique for selecting the right products to achieve your desired style:
Liquid: Start with a hydrating base, like a leave-in conditioner or water-based spray, to add moisture to your hair.
Oil: Apply a hair oil or serum to seal in the moisture from the first step. Oils add shine and protection to your hair, making it more effortless to style.
Cream: Finish with a styling cream or product that suits your desired style.
Strong Hold Hair Gels For Defining Curls And Coils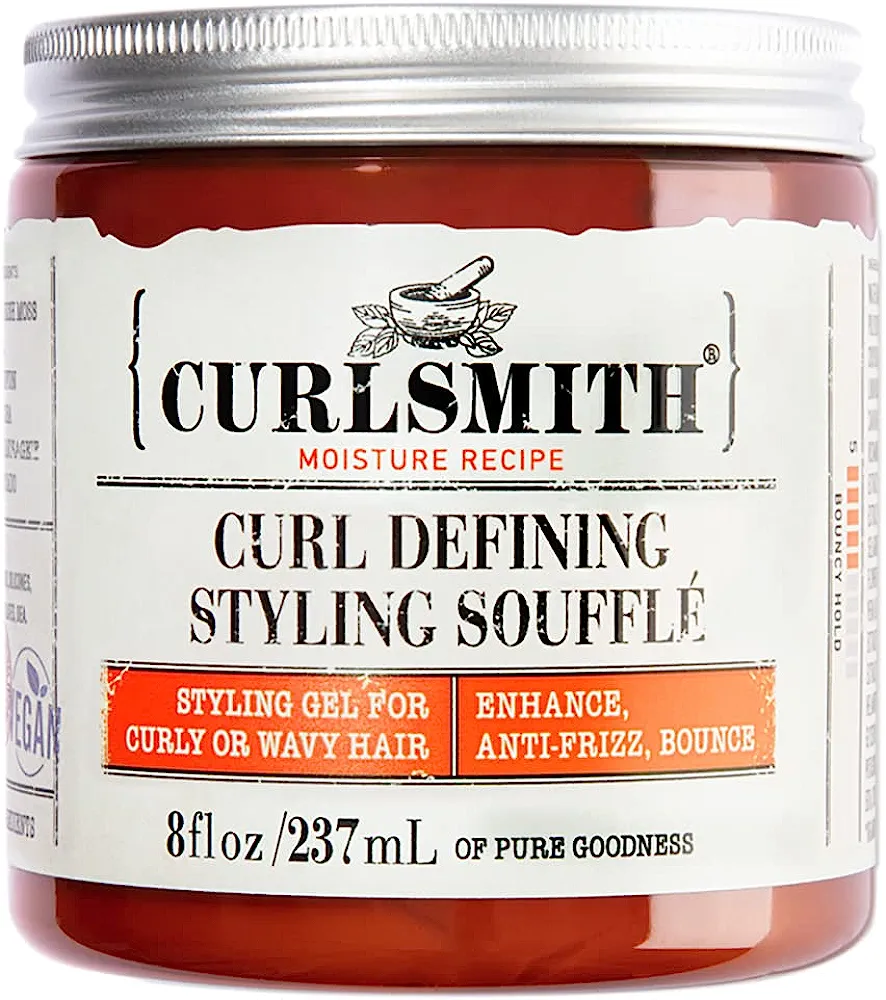 When you use CURLSMITH's Curl Defining Styling Soufflé, you benefit from the product's ability to provide optimal curl definition. This results in curls that are more defined, structured, and free of frizz and flyaways. Your hair will keep this beautifully defined shape all day, enhancing your overall appearance and confidence.
Editorial pick, Don't Hesitate – Add to Cart & Shine

Irish Sea Moss Gel by LUS Brands for Hydrated, Defined Waves & Coils
This remarkable product is a game changer in the world of hair styling, providing a plethora of benefits that will delight you.
The Irish Sea Moss Gel provides unparalleled moisture to your hair, keeping it hydrated, soft, and manageable.
This gel sculpts as well as styles, leaving your hair beautifully defined and ready to take on the day.
Feel the magic of natural curls brought to their full potential. The Irish Sea Moss Gel energizes and revitalizes your curls, giving them a new lease on life.
Grab your Irish Sea Moss Gel on amazon before it's gone

Discover the amazing benefit you'll love with My Curly Way Curly Hair Strong Hold Gel – Curlstrong Styling Gel for Curls. This exceptional product elevates hair styling to a whole new level, and here's why you'll love it.
The Curlstrong Styling Gel has a strong and unwavering hold that keeps your curls in place all day. No more worrying about frizz or curls losing their shape.
You'll enjoy the pleasure of well-defined, vibrant curls that demand attention.
This gel sculpts your hair, giving each curl a distinct and lively personality.
infused with strengthening ingredients, to gives your curls the fortitude they need to face daily challenges.
Volumizing Sprays To Give Your Hair The Life It Needs

Brocato Mousse Volumizing Foam will completely transform your hair styling game. This exceptional product provides a plethora of benefits that will take your breath away.
The mousse makes it simple to add volume to your hair. This is especially useful for those who have flat or thin hair and want to add fullness and body.
Unlike some heavy styling products that can cause hair to feel stiff, this foam provides a light and natural hold that allows your hair to move freely while remaining in place.
It also works well for taming frizz and managing unruly hair, resulting in a smooth and sleek appearance.
The foam not only aids in styling but also improves the texture.

The John Frieda Volume Lift Thickening Spray is a secret weapon for achieving natural fullness and voluminous locks that exude confidence.
you'll No more worrying about flat, uninspired hair. John Frieda's creation promises you increased confidence, the kind that comes from knowing your hair looks and feels amazing.
It is worthwhile to purchase it.
Texturizing Hair Products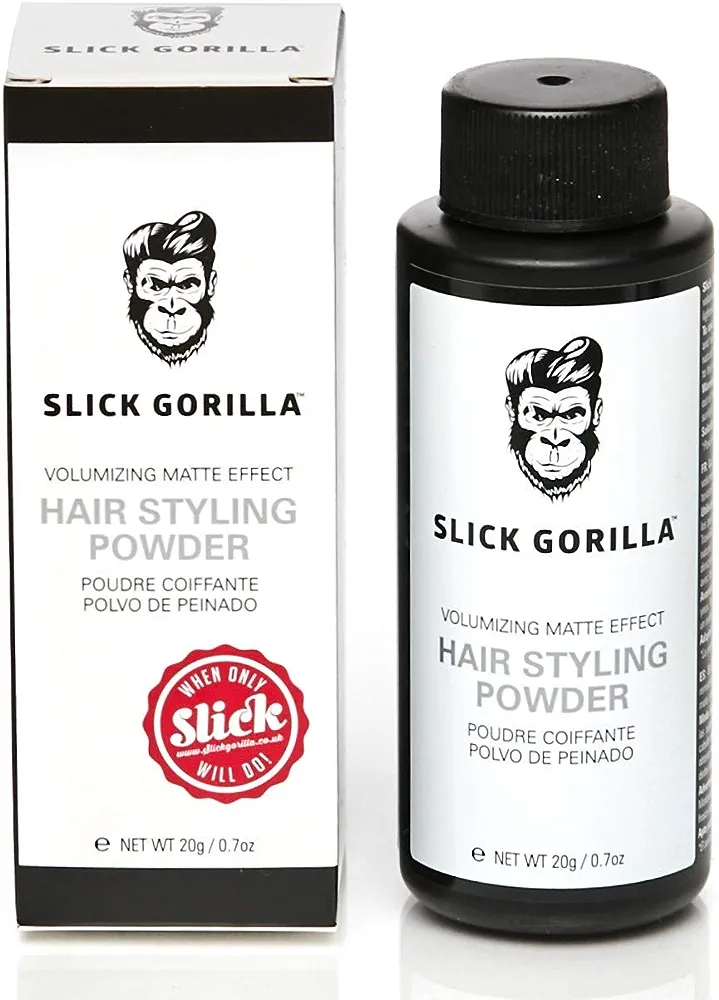 Slick Gorilla Hair Styling Texturizing Powder. In the world of hair styling, it's not just about looking good; it's about seizing the power to craft your identity, one strand at a time.
Let's start with the technical wizardry behind this powder. It's not your regular  average styling product.
Slick Gorilla's Texturizing Powder boasts a groundbreaking formula designed to elevate your hair game. It's the secret sauce that professionals swear by, and now, it's within your reach.
Slick Gorilla is a finely milled powder with unparalleled texture.
This means it effortlessly coats your strands with a feather-light touch, ensuring even distribution without weighing your hair down.
The result? Breathtaking volume that defies gravity. Your hair springs to life with newfound fullness and bounce, this hair product is a secret weapon in your quest for hair that turns heads, Many people swear by this.
Hair Serums For Glossy, Shiny Hair

Let's start with what makes HerStyler Serum stand out.
This serum is a hair repair powerhouse, containing an exclusive blend of rare botanical extracts and cutting-edge technology. It's like giving your hair a spa treatment.
infusing it with essential nutrients and hydration to restore its natural vitality.HerStyler does more than just repair damage; it also acts as a shield against future harm. You will notice a significant improvement in hair texture and manageability when using this serum in your hair styling.
Don't put up with bad hair days any longer. Improve your hair styling game with HerStyler Hair Repair Serum and see the results you've been looking for.

VEGAMOUR GRO Hair Serum is the ultimate game changer in hair care, promising not just a quick fix but a total hair transformation.
VEGAMOUR's serum stands head and shoulders above the competition, VEGAMOUR's serum not only promises, but also delivers.
This serum promotes hair growth, strengthens your locks, and even aids in the prevention of hair loss.
The benefits are obvious: thicker, fuller, and healthier hair that serves as a canvas for your wildest hair styling fantasies.
Imagine waking up with stronger, shinier hair that effortlessly obeys your every hair styling command. VEGAMOUR GRO Hair Serum not only nourishes your scalp, but it also improves the overall health of your hair, leaving you with shiny, healthy hair.
Heat Protectant Products
L'Oréal Paris Advanced Hairstyle Sleek It Iron Straight Heat Spray. This isn't your ordinary hair product; it's a game-changer that will leave you wondering how you ever styled your hair without it.
This spray, infused with advanced technology, forms an invisible shield to protect your hair from the intense heat of styling tools.
You won't have to worry about hair damage because this formula keeps your hair strong and resilient.
Imagine effortlessly sleek and straight locks that stay frizz-free throughout the day. This spray delivers salon-worthy results without the salon price tag.

Hair food heat protectant spray shoppers Who Have Tried a "Million Different Heat Protectants" Call This Drugstore Find "Gold."
It is said to make hair stronger, silkier, softer, and more lustrous.
Have you ever had the annoying experience of wanting a product that seems to be out of reach? When the "buy" button on Amazon is in continual demand, it's an acknowledgment to a product's popularity. This is the story of Hair Food's Coconut and Argan Oil Heat Protectant Spray Blend, a multifunctional hair saver that has the beauty world abuzz.
While it may not be a household name at Sephora or Ulta, this Amazon find has a stellar track record, with over 5,000 five-star reviews from satisfied customers. Users are raving about its astonishing ability to protect hair's health, making it sleek and lustrous even when damaged.
I've seen a remarkable transformation in my baby-fine hair – it's now longer and fuller. one satisfied client stated. Another user added, "No stiffness whatsoever – this is the best I've ever tried.
With such high praise, it's no surprise that this hidden gem is always in high demand, demonstrating that exceptional outcomes frequently speak louder than a popular brand on the shelf.
Hair Shampoo And Conditioner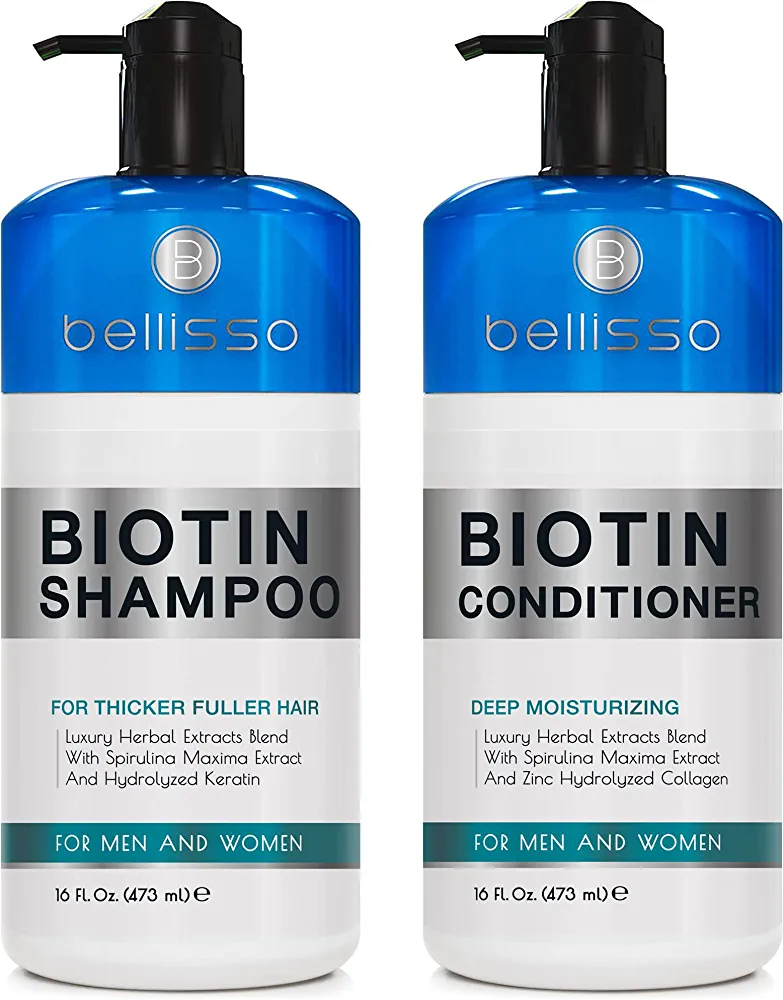 Set of Biotin Shampoo and Conditioner. This potent hair care duo isn't your typical regimen; it's a dynamic mix that will transform your hair.
This shampoo and conditioner set is enriched with biotin, a natural B-vitamin known for its hair-strengthening properties. It gives your hair the nourishment it needs.
Biotin provides strength and vitality to each strand of hair, giving it a natural increase in volume and texture. It's the ideal beginning point for obtaining the hairstyle results you want.
Biotin decreases breakage, promotes growth, and improves the natural gloss of your hair. Whether you want to achieve sleek, sophisticated hair styling or experiment with bold, creative designs, this set is an excellent starting point.
Add Biotin Shampoo and Conditioner to cart now on Amazon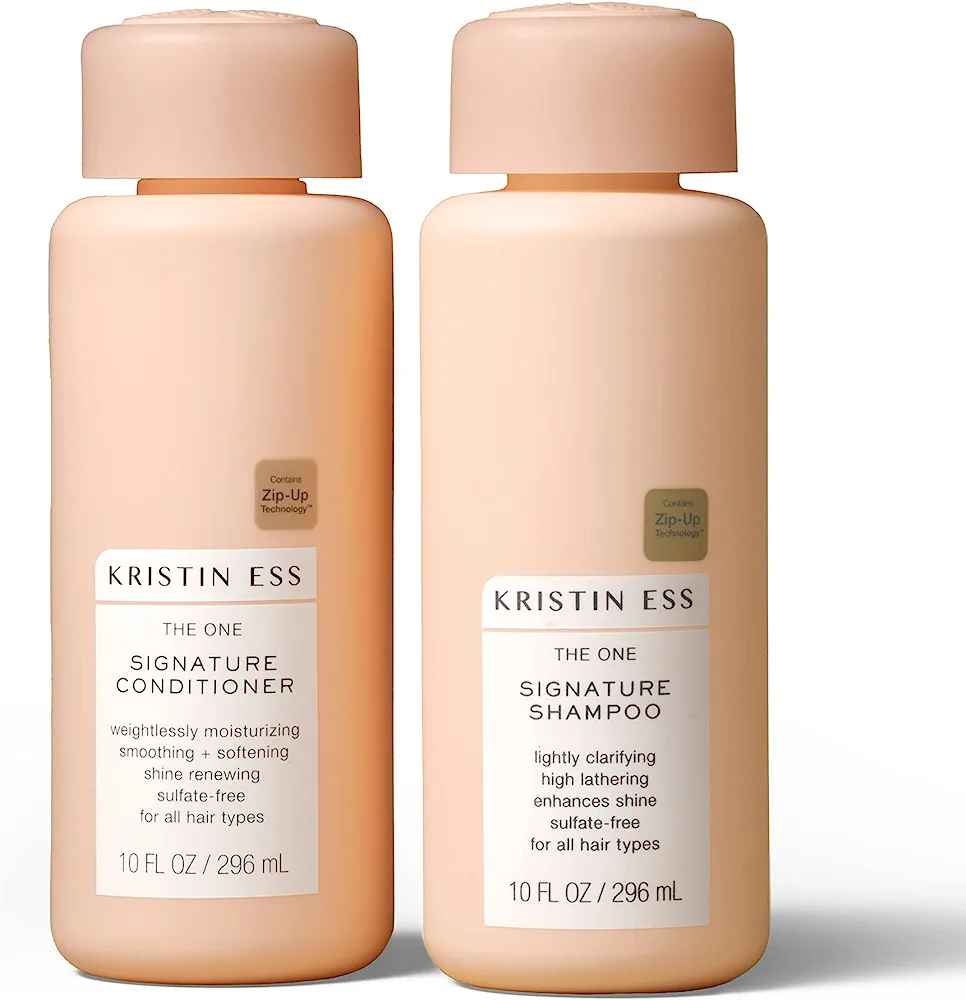 Kristin Ess Hydrating Signature Sulfate Free Salon Shampoo and Conditioner Set for Moisture, Softness + Shine
The shampoo's formula is one of our favorites editorial pick because it cleanses hair thoroughly while also leaving it nourished and beautiful.
The conditioner is light, gentle, and rinses cleanly without leaving residue more reason it is suitable for everyone.
Contains Zip-Up Technology, a proprietary strengthening complex designed to "zip-up" split ends while targeting weak areas of the hair.
repairs the appearance of damaged cuticles, and assisting in the protection of hair from environmental stressors and color fade.
Designed to cleanse, moisturize, add shine, plus soften all type of women's hair, from fine, thin, straight hair to coarse, thick curly hair.
Make your hair a work of art in terms of moisture, smoothness, and shine. Now is the time to get Kristin Ess Hydrating Salon Set on amazon for $21
Hair Scalp Oils To Prevent Dryness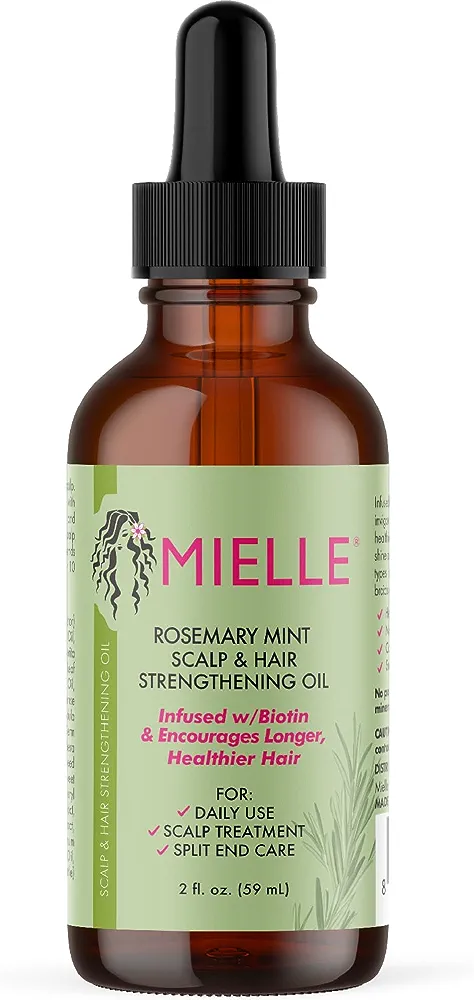 Mielle Organics Rosemary Mint Scalp & Hair Strengthening Oil.
This viral hair oil makes a "huge difference" in the thickness of fans' strands.
Users report a "lot of new growth".
My everyday routine has included the constant shedding of hair, leaving a trail of strands wherever I walk. My comb becomes an unwilling witness to this continuing battle, and I've frequently wondered if there's a way to save what's left on my head. My attention has recently been drawn to rosemary oil.
Minoxidil is a well-known name among those concerned with hair growth therapies. It's the gold standard for boosting hairlines and addressing sparse areas, much way retinol is for skincare. However, its effectiveness comes at a cost, with bottles often costing roughly $30. A significant investment for a product that requires a long-term commitment to produce benefits.
Imagine my surprise when a peer-reviewed, randomized study was published in 2015,
Imagine my surprise when a peer-reviewed, randomized trial comparing minoxidil to rosemary oil which was published in 2015. Both groups had a "significant increase in hair count" after only six months. This conclusion was noteworthy, especially given the findings of a 2013 animal study that suggested rosemary oil may inhibit the effects of DHT, a hormone associated to some types of hair loss.
Is rosemary oil the hair-saving miracle I've been looking for? It's a question that has piqued my interest in investigating this natural option and maybe saying goodbye to the daily shedding cycle.
If you want to try the find for yourself, Mielle Organics' Rosemary Mint Scalp and Hair Strengthening Oil is available on Amazon for $9.

Carol's Daughter Hair and Scalp Oil is a true scalp saviour. It works wonders in gently clarifying your scalp, soothing itchiness, and banishing flakes. Plus, let's talk about that scent – it's utterly irresistible. If you're seeking an effective and pleasantly fragrant solution for your dry scalp, this is the game-changer you've been waiting for
Customer Review
I recently tried out this hair oil and I was really impressed! Not only did it smell amazing, but it also helped my hair grow. I would definitely recommend this product to anyone looking for a great hair oil.
Styling Cream To Help Maintain Your Curls

This all-in-one curl treatment develops natural-looking, touchable curls with increased bounce and movement. The nourishing formula helps in the restoration of elasticity and smoothness, as well as the enhancement of shape and separation. It has a light grip and the characteristic Moroccan oil aroma.
While hydrating the hair, it separates and defines curls.
This hair solution eliminates the need for additional curl products.
Customer Review
It didn't take much product to make it work. I used a dime amount on the back of my shoulder length hair and another dime size (rubbed into my hands) on both sides of my hair. I observed a difference from not using it to using it. It definitely made my hair wavier. I enjoy the product's creamy texture.
My hair feels softer now that I'm using it. Because I live in Colorado, my hair gets quite dry, and this product makes a huge difference.
I'm glad I got it. this is definite add to cart.
You Need This.
The Cantu Coconut Curling Cream has done wonders for revitalizing many curls.
Customer Review
I use this and use this on all of my 3 boys! They each have a different curl pattern and this works wonders. I love how light weight and non greasy this is too. Definitely buy.
Wrapping Up
In conclusion, selecting the right hair care products involves considering your hair type, texture, and desired style.
Whether you seek volume or hold and texture, there are products available to help you achieve the perfect look.
So, go ahead and explore these options to your hair that lush feeling.
Let me know if you found this article useful in the comment section.