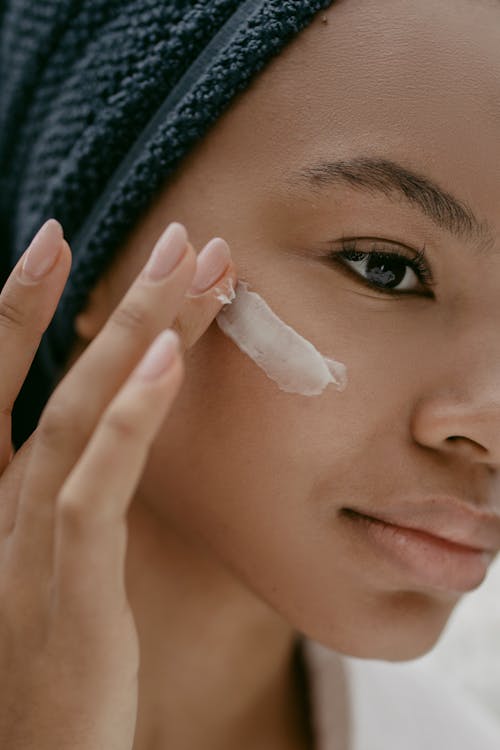 Unlock the coveted secret behind Meghan Markle's radiant glow as we unveil the holy grail of skincare: the best-selling moisturizer for dewy skin that has captured not only hearts but also the attention of beauty enthusiasts worldwide. Imagine possessing the same luminous complexion that has dazzled red carpets and graced magazine covers.
In this exclusive blog post, we reveal the transformative power of this remarkable moisturizer, backed by the seal of approval from none other than Meghan Markle herself. Get ready to elevate your skincare game and embrace a radiant future you never thought possible.
Best-Selling Moisturizer For Dewy Skin: Tatcha The Dewy Skin Cream
Tatcha The Dewy Skin Cream: Basic Components That Make It Stand Out.
Japanese Purple Rice Bran: This ingredient is rich in essential fatty acids and antioxidants, which help to nourish and protect the skin's barrier. It contributes to maintaining moisture and improving the skin's overall texture and tone.
Okinawa Algae Blend: This blend includes green, red, and brown algae extracts that provide a surge of hydration to the skin. Algae extracts are known for their ability to retain water and deliver deep, long-lasting hydration.
Botanical Extracts: Tatcha's Dewy Skin Cream often contains a mix of botanical extracts, such as ginseng, wild thyme, and sweet marjoram. These extracts offer additional antioxidant benefits, helping to protect the skin from environmental stressors that can lead to premature aging.
Hyaluronic Acid: Hyaluronic acid is a key player in retaining skin moisture. It's a humectant that attracts water to the skin, helping it stay hydrated and plump, which in turn contributes to a dewy and radiant appearance.
Squalane: Squalane is a lightweight, non-comedogenic oil derived from olives. It helps to lock in moisture and improve the skin's barrier function, leaving it soft and supple.
Tatcha's Signature Hadasei-3 Complex: This complex is a blend of three Japanese superfoods: green tea, rice, and algae. Green tea provides antioxidant protection, rice helps with exfoliation and hydration, and algae delivers nourishing and anti-aging benefits.
Silk Extract: Silk extracts are used in many Tatcha products, and they contribute to a smooth and refined texture. They can help minimize the appearance of fine lines and create a luminous finish.
Non-Irritating Formulation: Tatcha products are often formulated without synthetic fragrances, parabens, and sulfates, making them suitable for sensitive skin types.
Why Choose Tatcha The Dewy Skin Cream
Tatcha The Dewy Skin Cream" is known for its hydrating and radiant effect on the skin.
Positive Reviews and Reputation
Tatcha Dewy Skin Cream has garnered positive reviews and a strong reputation among users and beauty influencers. Many individuals have shared their success stories, praising the cream for its transformative effects on their skin.
Cruelty-Free and Clean Formulation:
For those who prioritize ethical and clean beauty products, Tatcha's Dewy Skin Cream is a good choice. The brand is committed to cruelty-free practices and formulates its products without harmful ingredients like parabens, sulfates, and synthetic fragrances.
Pros And Cons Of Tatcha Dewy Skin Cream
Tatcha Dewy Skin Cream is a popular skincare product known for its promise of providing a hydrated and radiant complexion. However, it's important to note that product formulations and consumer experiences may change over time. Here are some potential pros and cons of Tatcha Dewy Skin Cream based on information available up to my last update:
Pros We Love
One of the most appealing features of Tatcha Dewy Skin Cream is its ability to provide intense hydration to the skin. The cream's rich formulation and powerful blend of botanical extracts and humectants work together to deeply nourish and moisturize the skin, helping to combat dryness and dehydration.
As the name suggests, the cream is designed to give the skin a dewy, luminous finish. It imparts a healthy, radiant glow that enhances the complexion and creates a youthful and fresh appearance. This glowing effect is particularly appealing to those who want to achieve a natural, lit-from-within look.
The powerful hydration provided by the cream helps to plump the skin, reducing the appearance of fine lines and creating a smoother and more youthful complexion. This plumping effect is appealing to those looking to address signs of aging or maintain supple skin.
Antioxidant-Rich Ingredients:
The Dewy Skin Cream is formulated with a variety of antioxidant-rich ingredients, such as tin oxide, green tea, rice bran extract, and algae flower extract. These antioxidants help to neutralize free radicals, protecting the skin from environmental stressors and supporting overall skin health.
The cream is versatile and suitable for a range of skin types, making it a go-to option for those with mature skin or dull skin type, dry skin, normal skin, sensitive skin or combination skin. It can be used as a day or night cream, allowing users to incorporate it seamlessly into their skincare routines.
The product comes in luxurious and elegant packaging, adding to its appeal. The attention to detail in the presentation aligns with Tatcha's commitment to providing a premium skincare experience.
Cons To Consider
Not Suitable for All Skin Types: While Tatcha Dewy Skin Cream is suitable for those with dry and dehydrated skin, it may not be the best option for individuals with oily or acne-prone skin, as the rich formula could potentially exacerbate these conditions.
Price: The product is considered a luxury skincare item and may be relatively expensive compared to other moisturizers on the market.
Potential Sensitivity: As with any skincare product, there is a possibility of individual sensitivity or allergies to certain ingredients. Users should perform a patch test before applying the product to their entire face.
Heavy Makeup: Some users with oilier skin types may find that the dewy finish of the cream doesn't work well under makeup, as it may cause makeup to slip or break down more quickly.
Availability: Depending on your location, Tatcha products may not be widely available, which can be a drawback for those interested in trying the product.
personal experience and customer review of tatcha dewy skin cream
I have finally found my holy grail moisturizer, and it's none other than the Tatcha Dewy Skin Cream! Let me start by saying that this product has transformed my dry, lackluster skin into a radiant, hydrated dream come true.
From the moment I opened the elegant packaging, I knew I was in for a treat. The cream's delicate floral fragrance is soothing and adds a touch of luxury to my skincare routine. The texture is incredibly creamy and rich, yet surprisingly lightweight upon application. It glides effortlessly over my skin, instantly quenching my skin's thirst for moisture.
The true magic lies in the powerful hydration this cream delivers. My dry patches, which have been the bane of my existence, have dramatically improved since using this cream regularly. I wake up to plump, supple skin every morning, and it feels like a refreshing drink of water for my face.
But that's not all! The Tatcha Dewy Skin Cream also imparts a beautiful dewy finish that gives my complexion a healthy, luminous glow. It's like having a professional makeup artist's touch without any makeup at all! I often find myself reaching for this cream on my makeup-free days as it effortlessly elevates my natural beauty.
What's equally impressive is the carefully curated ingredients list. Inspired by ancient Japanese skincare secrets, Tatcha has incorporated powerful antioxidants like green tea and rice bran, which have undoubtedly contributed to the improvement in my skin's texture and firmness. I've even noticed a reduction in the appearance of fine lines, a bonus I never expected from a moisturizer!
Though it may be an investment, a little goes a long way with this cream, making the jar last for months. And given the transformative results I've experienced, it's well worth every penny.
I must note that my skin can be quite sensitive, but I've experienced no adverse reactions to this product. It absorbs beautifully, leaving no greasy residue or clogging my pores, which has been an issue with other heavy creams.
conclusion, if you are on the hunt for a game-changing moisturizer that delivers on its promise of dewy, hydrated skin, look no further than the Tatcha Dewy Skin Cream. It's a true skin savior and a product I can confidently recommend to anyone looking to achieve a radiant, youthful complexion. Say hello to your best skin ever with Tatcha!